Join the Postdoc Academy
Participate in the Online Courses
The first online course, called "The Postdoc Academy: Succeeding as a Postdoc," will begin on April 24, 2021. Registration will open in February. This 6-week course will help postdocs create a rewarding experience that will launch them into their chosen career path. Themes explored include:
Finding Success as a Postdoc
Building an Actionable Career Plan
Working Effectively in an Intercultural Environment
Developing Resilience
Each week focuses on one theme and contains between 2-4 hours of content – watching short videos, engaging in discussion forums, and reflecting on self and others. You can complete the course work at any time while the course is running!
The second online course is titled "The Postdoc Academy: Building Skills for a Successful Career" and is scheduled to launch in July 2021. This series of modules will build advanced skills that will enable postdocs to transition to independence. Themes explored include:
Project Management
Dealing Effectively with Conflict
Applying Teaching Skills Beyond the Classroom
Rigor and Reproducibility
Developing Leadership Skills
---
Find a Learning Community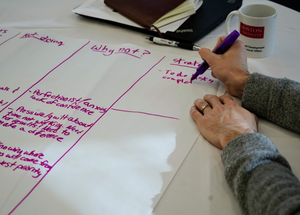 In addition to participating in our two free online courses, postdocs can join a Postdoc Academy Local Session (PALS) at their institution. Local learning communities support online learning by connecting content directly to the postdocs' local context and community, and also promote deeper learning of the material.
PALS are small groups of postdocs who meet in-person (or virtually) once a week while either taking the online course, or utilizing Postdoc Academy content. Each PALS is guided by a facilitator (a postdoc or anyone who supports postdocs).